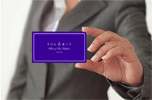 In a nutshell, businesses fail because visually, they don't look successful. It's like a self-fulfilling prophecy, if you look like you aren't doing well, your business won't do well because people assume you aren't doing well. "Confusing as that may seem, people want to feel good about what they are buying from you", says Sonya A. Lowery, Author of The Secret Language of Business Cards (And What Your Brochure Is Saying Behind Your Back) and that "Good Feeling" begins with your company's looks or "Brand".

"If your idea of a professional image is a business card and brochure you have created yourself, then you can definitely count yourself among the businesses that will be in trouble". Lowery makes no apologies for her blunt stance. "Two thirds of new businesses survive 2 years, fifty percent survive 4 years, and only five percent survive 10 years. It's a war: your business against other businesses. The one that attracts the eye of the consumer wins, simple as that." From Lowery's point of view, you don't get to say you're an expert when you don't look like one. It's like meeting a really interesting person who has neglected to brush their teeth, comb their hair, and bathe; no one really cares about what they have to offer because they just can't seem to get past the sight of them.

Small businesses are already operating at a disadvantage. People assume that the quality of a product or service from a small business is going to be inferior; that of course is not true. Often customers won't even walk in the doors, and that's because even from the outside, people can see that there has been little attention given to detail. That lack of detail is apparent with hanging banners instead of professional signage, handwritten signs in the windows and on the walls, or worse, marketing material that looks as if a child created them. What's important to know is that all businesses must have certain items in place before they even consider opening their doors and that means putting together a real marketing and graphic design budget, something most small businesses just don't do.

As stated in The Secret Language of Business Cards, every business must have a professional logo. They must have professionally designed business cards and marketing materials printed by a professional printing company. And every business must have a clean, well presented website, not something your cousin put together. Above all, every one of these pieces must look like they belong to a single company. That means there should be a common theme of shared colors, pictures and imagery. With all of these pieces in place, you are creating a "Brand".

Most businesses disregard the magnitude of having their company branded. But ask yourself this… Do you remember any company that wasn't branded? Do you remember ever being given a handmade brochure? What was the name of the company? What did the literature say? Most people won't remember because they didn't take the time to read it. Without a brand, your company is not worth remembering. People won't remember who you are or what you sell. If they can't remember, they won't call for your services; it's as simple as that. A "professional brand" introduces potential consumers to your business, so you had better make sure you have one.