Don't settle: live the life you want with these 5 steps.

SONYA A. LOWERY HAD A GOOD LIFE--BUT SHE WANTED MORE. Her dissatisfaction prompted her to make pivotal changes in her personal and professional life. Three years into her marriage and a budding graphic design enterprise, she left both her husband and her business partner.

"My life was okay, but I knew I could have more," recalls Lowery. "I wasn't excited about what I was doing and I was constantly torn between doing what I wanted and adhering to what others wanted me to do." Today, 38-year old Lowery is president of Solaris--House of Fine Graphics, a Greenbelt, Maryland-based design firm she launched after the split.

"We all have an innate drive to fulfill our desires," says Karyn Pettigrew, author of The Invitation: The Secret to Creating Your Best Life (Highest Good Publications; $6.95). "But we have to choose whether we want to support that drive or suppress it."

The Chicago-based life coach and business consultant maintains that those who sup press it suffer in ways that include living with increasing regrets and experiencing feelings of discontentment, anxiety and even depression.
"When we settle for less than what we want, we're living less of the life God intended for us to have and we're unhappy," Pettigrew says. "However, when we embrace who we are and pursue what we want, we experience joy, happiness, peace, and contentment, making it easier to deal with obstacles we encounter in getting it and move beyond them."

Lowery agrees and recalls that while the divorce and business closing were difficult, the changes allowed her the freedom to rediscover her creativity and reignite her childhood passion.

"Creating your best life doesn't necessarily mean making monumental changes," reminds Pettigrew. She recommends implementing these small adjustments, which can yield big results:
| | |
| --- | --- |
| * | Outlook. Rethink your frame of reference or modify your stance. |
| * | Attitude. Establish how you will feel despite the circumstances. |
| * | Response. Determine what response you will exhibit. |
CHANGE IS GOOD
Pettigrew insists that everyone can create their preferred life. Here's how:
| | |
| --- | --- |
| 1. | Find your truth. Look deep within your heart and identify what is important to you. Determine your values, likes, dislikes, and desires. Lowery realized that she cherished her independence and felt best when she made decisions on her own terms. |
| 2. | Trust yourself. Listen to your intuition. Regardless of what others think, pursue the life you dream of having. Lowery acknowledges that despite having fears associated with single parenting and entrepreneurship, she always believed in her ability to build a business and take care of her children. |
| 3. | Be responsible. Take steps that move you toward your preferred life. Seek out information. Secure resources. Solicit support. Lowery took charge of her career aspirations by networking more. |
| 4. | Stay focused. Concentrate on what you want and those things that will allow you to achieve it. Lowery refused to spend time working at jobs other than those that built her business. "If it wasn't graphics, I wasn't doing it,--no matter how bad I needed the money," she recalls. |
| 5. | Be intentional. Make deliberate, impactful efforts to further your progress. Early on, Lowery volunteered to design marketing materials to gain exposure. She also created opportunities for herself such as writing a book, The Secret Language of Business Cards (Jordan Maxwell Publishing; $14.95). |

Sonya Lowery Wins The Network Journal 40 Under Forty Award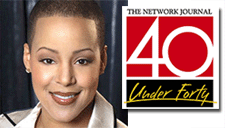 Sonya A. Lowery literally designed her success from scratch, on scratch paper. A former receptionist, Lowery leveraged the doodling she did in between answering telephone calls to become an award-winning graphic artist as founder and president of Solaris-House of Fine Graphics in Greenbelt, MD. For more than 10 years, Lowery has designed marketing materials to enhance the image of such nationally known businesses as ConAgra Foods, FraserNet's PowerNetworking, Allergan (Botox), as well as countless others. "Having a great image gives a business an advantage," she says. "Smart business professionals make use of all the advantages they can get."

Lowery has always had an affinity for minority-owned businesses. However, she credits her mentor, motivational speaker George Fraser, with encouraging her to take her image-enhancing efforts into the Black business community. She has since made it her mission to change the way Black businesses are viewed in the marketplace. "Few businesses are as scrutinized as those owned by Blacks. It's these businesses that need to pay the most attention to how they look, sound and feel," Lowery says. "Your business image is a total package and it's either working for you or against you."

Lowery offers businesses and professionals a set of image-building guidelines in her book, The Secret Language of Business Cards (and What Your Brochure Is Saying Behind Your Back).

Lowery received her formal design instruction at the Corcoran School of Art in Washington, D.C. She also took classes at the Eastern Shore and College Park campuses of the University of Maryland. When not writing books, speaking around the county and making various media appearances, Lowery is chauffeuring her sons, Jordan and Devin, between piano lessons and baseball practice. She says, "My greatest success is being able to provide a way of life that both my sons and I can be proud of."

8 Common Business Card Mistakes (Black Enterprise Magazine)
Presenting yourself as a professional is key to any executive. Here are some common business card faux pas to steer clear of by
Marcia Layton Turner
.
You only have one opportunity to make a first impression. That's why Sonya Lowery, author of
The Secret Language of Business Cards: And what your brochure is saying behind your back
(Jordan Maxwell Publishing; $14.95), is constantly surprised by the gaffes business owners make in the design and production of their business card. Here, she points out the eight most common mistakes professionals should avoid:
| | |
| --- | --- |
| 1. | Having no business card at all suggests you aren't serious about your business and makes it virtually impossible for potential clients to follow up with you. |
| 2. | Not using a professional logo makes it difficult for customers to differentiate you from other companies in your industry. |
| 3. | Leaving your Web address off your card discourages potential customers from researching your company or visiting your Website. |
| 4. | Using an unprofessional email address, such as doglover@hotmail.com, which is a free email account, is much less professional than you@yourbusiness.com. |
| 5. | Buying template-produced cards printed for free by companies online "are a tell-tale sign you paid nothing," says Lowery |
| 6. | Settling for cheap printing "cheapens your entire company image," she says |
| 7. | Listing several professions on one card suggests you may be a jack-of-all-trades, but a master of none |
| 8. | Presenting tattered and torn cards with information crossed off portrays you as a struggling and unprofessional business owner |
For recommendations on how to design your business card, pick up the December issue of BLACK ENTERPRISE magazine.

Climbing Down The Corporate Ladder
(Exploring The Entrepreneur In You)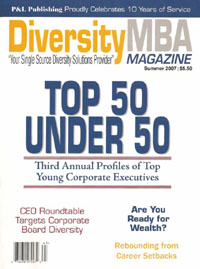 By Nikitta A. Foston - For the ambitious corporate climber, the rise to higher heights is an intricate maze of corporate practices, business protocols and requisite benchmarks. It is a daunting task of increased responsibility, and for a growing number of employees, a job of diminishing returns. Despite the benefits of ascending the corporate ladder, complete with public acclaim, industry accolades and corresponding financial rewards, it is a journey that leaves more and more top-ranking executives with a lack of energy, a loss of joy and a mounting search for personal satisfaction and internal fulfillment.

"I used to get up every morning incredibly excited to go to work," says Lalita Tademy, former Vice-President and General Manager of a Fortune 500 high technology company in Silicon Valley. "But, I began dreading it. I could still perform it well, but I was giving all of my energy away. I had no idea what I was going to do, but I knew I couldn't figure it out while I was working an 80-hour week. I didn't leave my job for a particular idea or desire. I left to change my life."

And change her life she did. Tademy, who devoted the next three years of her post-corporate life to researching her family history, culminated her research in a bestselling novel, Cane River, which spent 17 weeks in the #1 slot on the NY Times Bestseller List and was chosen for inclusion in Oprah's Book Club. "There is nothing better that can happen to an author, especially a first-time author," says Tademy of her pick by Oprah. The novel, which won national acclaim, tells the powerfully gripping story of four generations of Black women alongside Louisiana's historic Cane River.

With her debut, Tademy has added color and depth to the literary landscape of America from an African-American perspective, in the process, found time for love and marrying for the first time in her 50s. "I am extremely proud of being able to restructure my life in such a way that accommodates interests I could not have explored had I not left the corporate world." The two-time novelist, who recently released, Red River, the sequel to her breakout debut, terms this new phase of her life, Chapter II. "I was able to take my life back."

For prominent Los Angeles attorney, Darrell Miller, the 2nd highest billing associate in a national law firm of over 300 lawyers, life was good – very good. After 5 ½ years at one of the nation's Top 100 firms, Miller, a classically-trained opera and musical theater singer, decided to merge his creative genius with his legal expertise.

The result? Miller & Pliakas, LLP, an entertainment law firm which boasts an impressive roster of A-list actors, directors, writers, singers and producers including Angela Bassett, Courtney Vance, Master P, Ludacris, Romeo, Wanda Sykes and Outkast's Andre 3000 – an accomplishment which has catapulted Miller to the top of Black Enterprises' Top 50 Showbiz Players List and Fade in Magazine's 100 People in Hollywood You Need to Know. The firm also represents the interests of executives and companies in television, film, music and new media including the development, production and exploitation of entertainment related content.

It is a complex definition, but one that Miller shares quite easily and proudly, offering no regrets for leaving behind the security of a firm for the limitless opportunity of his own business. "Our parents grew up in an America where there was amazing corporate protection and stability. You worked for 20 years and then retired with a gold watch and a pension. But today is an entirely different era. We live in a climate of transition which has made the luxury of stability, as our parents knew it, virtually non-existent. In this day and age, you're only as good as the last thing you've done," says Miller who launched his Beverly Hills firm in 1996 and was later joined by partner, Roger Pliakas. "I am thankful for the freedom to identify, research and articulate my future based on my own resources and my own terms."

Those terms, including the flexibility of creating your own schedule, setting your own hours and determining your own workload, are the perks that Sonya Lowery, a former corporate executive, simply can't do without. The graphic designer-turned president of her own company, Solaris, is more than a talented graphic designer for individuals, small businesses and everything in between. She is an image consultant-extraordinaire who scored four promotions in five years before launching her own company. "I took everything that I learned in the corporate arena and threw it into my business. From my customer service skills, to negotiating with clients, to developing an image that lasts, all of my prior experiences helped me develop my approach to business. Lowery, the author of The Secret Language of Business Cards (And What Your Brochure Is Saying Behind Your Back) has been profiled in Smartmoney.com, Black Enterprise Magazine, the Washington Post and was recently honored by the Network Journal Magazine's 40 under Forty Dynamic Achievers List.

For Lowery, the decision to leave corporate America required a commitment to doing what she did best: branding. "New businesses have a 50% chance of failure before year two and by year five, 90% have closed their doors. The high failure rate is due, in part, to something many entrepreneurs don't realize is critical… their image. It may seem like common sense, but branding is the best kept secret of the successful. My company helps define, create and build the brand," she says of her business located just outside of D.C. "You only get one chance to make a first impression."

Darrell Miller, entertainment lawyer and author of the 16th Minute of Fame says "Far too many people focus on trying to become successful, rather than focusing on what it takes to remain successful. People tend to focus on the 15 minutes of fame – not the 16th minute."

But for trailblazers like Miller, Tademy, Lowery and others who are charting a new course toward success, one that doesn't require a corporation or its ladder, the focus is clear, the vision is strong and the rewards are lasting. "The biggest thing that stops most people is fear," says Lowery. "But fear is based on an unawareness of the unknown and an inability to focus on what could be. But if you change your mind, you can change your life. It all begins with you."

Sonya In Heart And Soul Magazine